7 Reasons To Get Married In Italy
If you're planning a destination wedding, why not consider one of the most romantic places on earth. Italy was the backdrop for the timeless love story of Romeo and Juliet, and its beauty, culture and lush landscapes are just some of the reasons this charming country could be the perfect place for your big day.
You'll have your pick of elegant villas, extravagant castles, luxury hotels or even beach ceremonies. So if you want a truly unforgettable day, surrounded by all the wonder and romance this dreamy nation has to offer, Italy could be the right choice for you and your partner.
But if you're still undecided, we're here to help! Check out our guide below on just seven great reasons why you should get married in Italy.
Italy is the original land of love
Photo Credit – David Bastianoni
There are so many reasons that Italy is equated with love and romance, not least of all because the classic love story Romeo and Juliet was set in Verona. But more than this, the Italian language is cloaked in love and as a nation, they whole-heartedly embrace and place great importance on love and family. This is a nation that oozes romance and the charming scenery would be the perfect backdrop to any wedding day.
You'll find the perfect location to suit your style
From stunning countrysides and rolling hills to vineyards and A-list beaches, Italy has something for everyone, so you'll be sure to find the perfect location for your big day. If it's an intimate and quietly romantic ceremony you want, consider Tuscany, or for added wow factor head on down to Capri or the Amalfi coastline for hidden bays and crystal-clear seas.
But no matter where you choose to host your ceremony, the aura of romance floods the whole of the Italian nation and you're sure to have an unforgettable day that your guests will be talking about long after they get back home.
The weather won't disappoint
Photo Credit – Bubblerock Photography
For the most part, Italy has beautiful weather (especially when you're used to the colder temperatures and drizzly rain of the UK). The summers are hot and dry, and during the spring and autumn, you'll also be treated to mild temperatures and blue skies. You could even opt for a winter wedding if that's more you're style, cosy up inside one of Italy's many beautiful venues and your pictures will still be complete with crisp and clear blue skies.
Your day will be a treat for you and your guests
Your guests will be joining you in Italy, usually for a few days before and after the wedding. This means you can spend some quality time with them soaking up the beauty of Italy, enjoying great food and taking a break before the big day! You might want to arrange a spa day, wine tour or cooking class beforehand to truly make the most of your visit. Plus, you'll have a day or two with them after the wedding to come down from the buzz of the day and share your highlights from the day with one another.
Don't forget about the world famous food and drink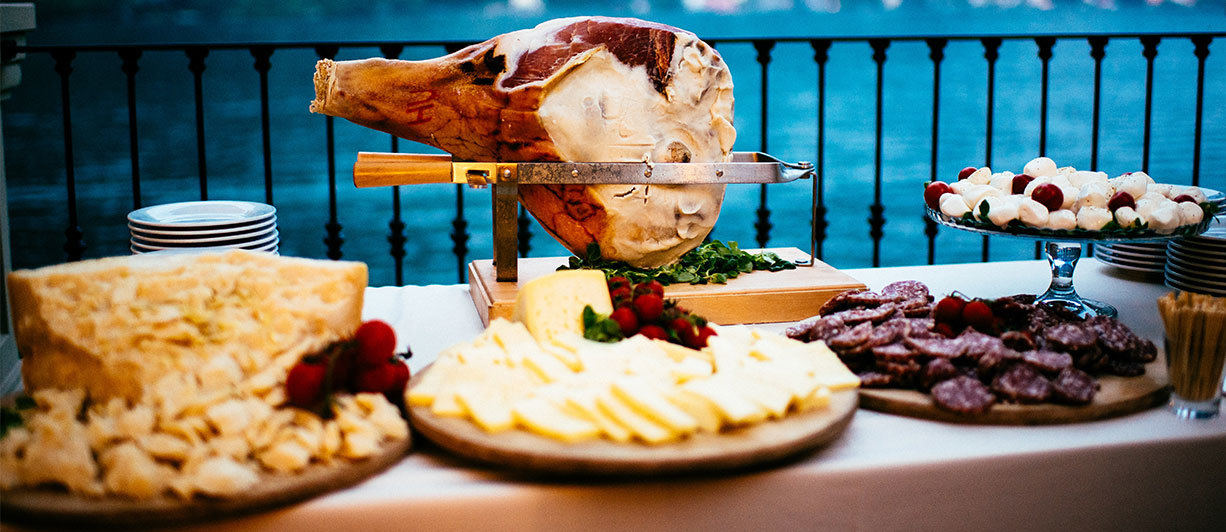 Photo Credit – Ed Godden Photography
Italy is famous for its delicious local cuisine. Think generous buffets of cured meats, cheese and salads, or freshly prepared pizza and pasta dishes for your main course. And all of this is completed with the handcrafted cakes table and the perfect glass of wine to match every meal choice. You really can't go wrong with Italian food and you're bound to settle on a delicious menu that will leave you wanting more!
The suppliers are just as great
It can be a concern when planning a destination wedding that you'll struggle to find the suppliers to meet your needs. But all the vendors in Italy are just as good (if not better when it comes to authentic and talented Italian chefs!) so you'll be able to find everything you need for your big day. This includes amazing florists, stylists, caterers and venues and you can always buy your dress online.
You can have your wedding and honeymoon in one!
Photo Credit –  Ed Godden Photography
Another huge advantage of getting married in Italy is that once the wedding is over and your guests have gone home, you can stay behind and enjoy your honeymoon with no extra travel required! That is of course unless you choose to change destinations. Italy has so much to offer that you might choose to move to a new coastal location or go inland to enjoy beautiful countryside walks and tours of the local vineyards. Whatever you choose, Italy's beauty, food and culture make it a wonder destination for your honeymoon.
Written by Stuart Cooke, Digital Marketing Manager at My Baggage, a luggage delivery service that helps travellers send their luggage ahead to make their trip a little easier.