Your Destination Wedding Guide to Greece
Rich history, vibrant culture, exquisite beaches and the perfect climate combine to make Greece an incredible location for your destination wedding.
Whether you're planning a fairytale wedding or a relaxed beachside shindig, Greece has so much to offer the couple looking for a luxurious and truly memorable wedding.
Wedding Hotspots in Greece
Greece is an international tourist destination, easily accesible from airports around the UK across Europe and further afield as well as by ferry to Athens .
The main choice you need to think about when choosing about whether or not to get married in Greece is whether to opt for tying the knot on the mainland or on one of the 6,000 islands that make up this vast country.
Greece's spectacular islands feature picturesque whitewashed buildings outlined against the the vast turquoise seas, making them the perfect destination for hopeless romantics. Whether you opt for the idyllic beaches of an island the more rugged and sometimes mountainous scenery of the mainland, either way it'll be an unforgettable wedding.
Wedding Venues to Die For
If you're thinking of tying the knot in Greece but don't know where to start, why not head for the Cyclades islands and the stunning scenery of Santorini? This spectacular island has become world-famous because of tis picture-perfect views and architecture. Get hitched against an exquisite sunset over the caldera for an unforgettable wedding.
If you're looking for the ideal blend of sandy beaches, relaxed nightlife and instagrammable backdrops then Zante, also known as Zakynthos, could be the ideal destination. This lively resort island is the jewel of the Ionian sea, fringed with stunning beaches including the iconic turquoise cove known as Shipwreck Beach. For a truly intimate wedding, head for the tiny islet of Cameo Island, accessible only by a footbridge.
Diminutive and gorgeous, Skopelos lies in the less well known Sporades islands. But if you want a more relaxed Greek wedding then you'll head for this remote getaway with its vineyards, olive groves and orchards and the spectacular Amarantos rocks, an iconic backdrop for your big day.
For a more sophisticated affair, head for Athens itself, a city where the past and present coexist against the deep blue skies of the Mediterranean. Enjoy the luxurious aesthetic of the Athenian Riviera and say your vows overlooking the Acropolis. Athens makes a truly magical backdrop to a five star wedding.
With so many gorgeous stretches of sand to choose from a beach wedding is almost a cliché, but there are plenty of unique and desirable venues to explore from a traditional Greek winery to the paradise of Bohali Hill or a restaurant overlooking the caldera in Santorini. And don't miss the opportunity to recreate one of the most iconic moments in Mamma Mia by saying 'I do' at the Agios Ioannis church. These venues are often much more affordable compared with other countries and really deliver on wedding day charm.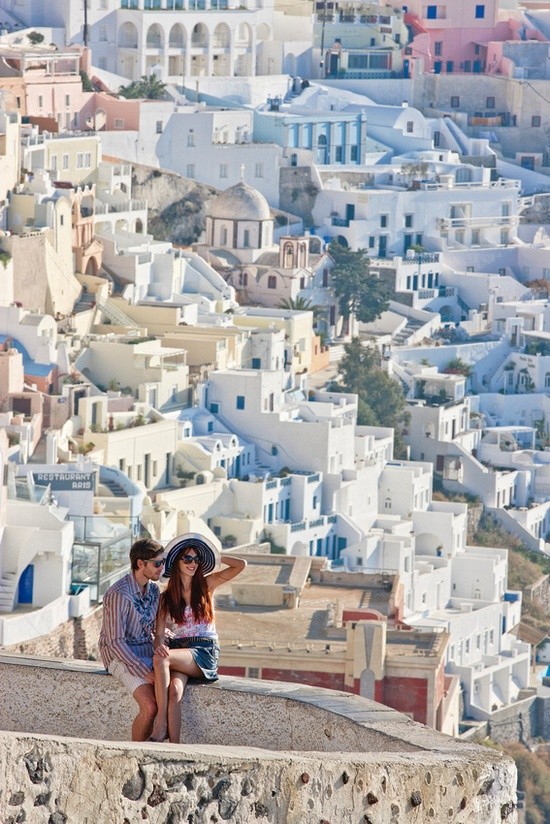 Divided into 13 regions each with its own unique history, Greece has a rich and diverse culture where great restaurants and cool nightlife sit side by side with some of the greatest architectural treasures on earth. You can expect a warm and friendly welcome wherever you go from the local cafe or taverna to the many cultural events including the Athens Epidaurus Greek Festival held in the world famous theatre.
The cuisine of Greece is like sunshine on a plate, packed with healthy, high quality ingredients that are treated simply and carefully to deliver huge amounts of flavour. Greek wines are truly unique, reflecting the country's long and illustrious history in their rich variety.
The climate in Greece varies considerably between the north and the south, with temperatures as low as 2°C in the winter in the north and as high as 32°C in the summer in the south. With glorious sunshine for over two thirds of the year, there's never a bad time to get married in Greece though you might like to opt for late spring and early summer when the temperatures are truly pleasant.
In southern Greece you can expect over 10 hours of sunshine a day from May to July while the ocean breezes in the islands create a beautiful atmosphere for a beach wedding.
If you're happy to go ahead and plan your Greek destination wedding and are aware of the language barrier and administrative complications involved,  get in touch with the Greek Embassy for the most up to date guidance on getting married in Greece.
You should also contact the local town hall or dimos where you intend to tie the knot and make sure you both have a certificate of no impediment (CNI) proving you're free to get married. In England this can be obtained from your local register office. Once the intent to marry is granted by the dimos you'll be able to get married in a civil ceremony or enter a civil partnership.
One of the biggest advantages of a destination wedding is finding yourself in the perfect location for a honeymoon. From island hopping around the Med to taking in the ruins of Greece's ancient civilisation, there's so much to see and do.
Enjoy a movie tour of iconic locations from Mamma Mia and Zorba the Greek or delve deep into the past at the incredibly well preserved sites of Delphi, Olympia, Corinth and Knossos.
The crystal clear waters are made for snorkelling and diving while the flawless beaches invite you to relax and unwind in each other's company. A Greek honeymoon is the perfect way to enjoy this iconic landscape and culture steeped in passion and romance. 
Matthew Oliver Weddings specialise in luxury destination weddings across Greece, with a network of suppliers across the mainland and its islands that can help create your perfect wedding.
Contact us today to start the journey to your perfect wedding in Greece.