#historymade – Bridal Inspiration Shoot
Bonjourno my lovely people!  How are you?  Again I apologise for the slow updates, but if you've been following me on instagram or facebook you would've seen I've recently been to Ravello in Italy?  I totally fell in love with the place, and recommend it for any romantic out there.  It's one of the most romantic and beautiful places I've ever visited!
Anyway, I've been meaning to tell you about the incredible shoot I put together in April (seems such a long time ago now).  I named it History Made because I feel we created History ;-).
---
For the last year or so, I've been thinking hard on what to create for my next shoot; I wanted to design something that is slightly different from all the other styled shoots out there and show a different side to wedding photography, something more edgy and dark than fluffy and colourful!  It was to be more fashion related photography than wedding photography, as I love this style of shooting and it's becoming more popular with brides and grooms to be!
Weirdly when noticing the beautiful Lupita Nyong'o I knew I wanted to have a strong black female model with short hair for the shoot and after driving through the vast areas of the New Forest (a famous heritage site in Hampshire, UK) I knew I wanted to shoot it here, as there is so much depth and large open areas.
It was important to me to make it all original so I did my research and couldn't find another shoot with a beautiful black female model with short hair in the New Forest, with similar design ideas to us!
Once we had the location and idea, then we designed the shoot around elegance and class, we wanted to show two parts of a wedding, the formal dining then the evening party!  Both parts were set-up in two different areas of the New Forest, an open plain for the formal dining with a simple yet well-dressed set-up and a dark open forest for the evening party which showed a messy set-up instead of a clean elegant setting!  We even used dresses to fit these two separate locations and set-up's!  Colour wise we went for regals, like golds, dark reds, purples and greens.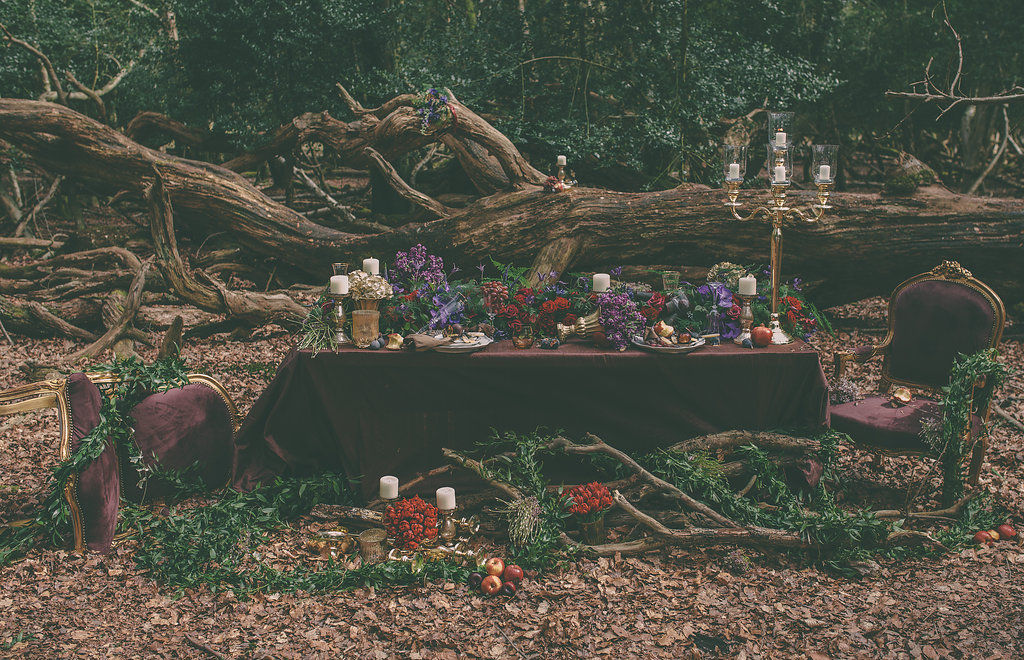 I think we had 6/7 dress changes from a mix of boutique designer dresses to hand made bespoke dresses, 1 was even made the night before especially for the shoot and model; as you can see all of them were incredible and it's hard to pick out a favourite!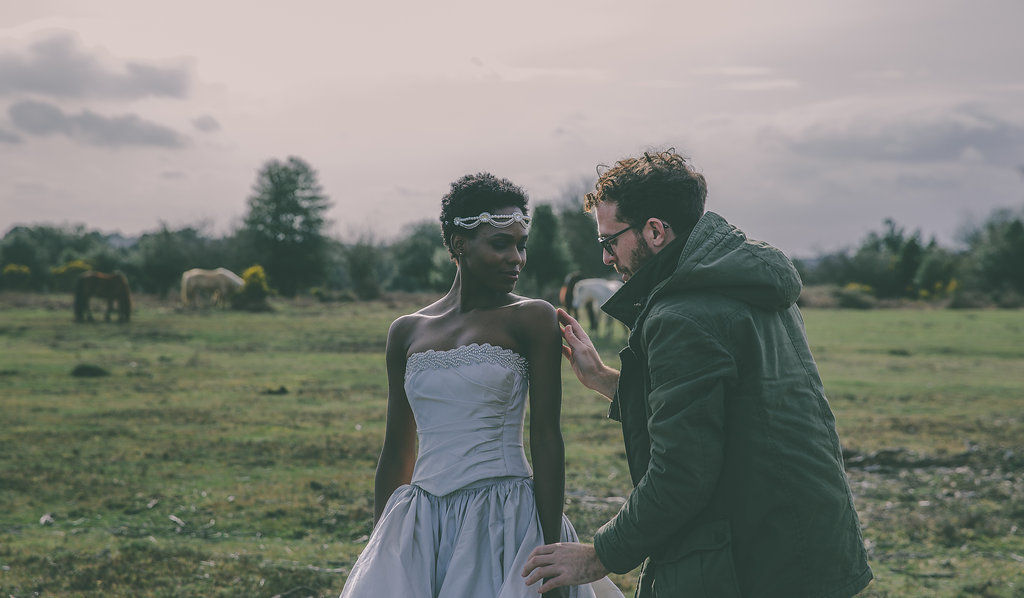 I had the best team I could wish for, everyone delivered and put in a lot of hard work!  I wanted everyone to have fun and enjoy themselves, and I don't actually remember the last time I laughed as much!  We even filmed the shoot and focused on the behind the scenes so people watching can see how down to earth we all are and what a great team we are!
History Made (behind the scenes) from Dmitry Serostanov on Vimeo.
Massive thanks to the following for all their incredible work: –
I'm so happy with the results and just wanted to show the world a more edgier side to a wedding and using more dark related photographs!  Hey we even had wild horses in the shoot, what's not to love about that?!
Oh I almost forgot, it was featured on the amazing Junebug :-).  See the article here – http://junebugweddings.com/wedding-blog/forest-wedding-high-fashion-bridal-inspiration/
Lot's of love and enjoy,
Matthew Oliver International Wedding Planner xx