How to Plan and Start a Wedding Beauty Regimen
There is no need to emphasize the importance of looking perfect on your wedding day. However, the final, glowing look cannot be achieved in just a week. The best time to start preparing yourself for the wedding is as soon as you get the engagement ring.
A year before the wedding
If you want to eliminate the possibility of spots and pimples appearing on your face on your special day, start nurturing your skin at least 12 months before the wedding. Book an appointment monthly. Make sure you choose a skilful and knowledgeable cosmetician who uses quality products. These monthly facials will result in porcelain skin which will glow on your wedding day.  
Unless you are already a regular member of the gym, now it is time to start working out. You want to fit in that dress and show off perfectly toned arms. Also, if you want to get rid of a few extra pounds, now it is time to start watching what you eat. If you decide to lose weight shortly before the wedding, you will have to go on a restrictive diet. That is not very healthy and it can be very stressful.
Photo credit –  Hayley Savage Photography
8-6 months before the wedding
No matter which hairstyle you choose for your big day, it will not hide damaged and neglected hair. Therefore, start taking really good care of your hair. Invest in some quality hair products which you will use regularly. Pay a monthly visit to a hairdresser who will give your hair a professional treatment.
Photo credit –  Ben Yew Photography
3-6 months before the wedding
By now, you have probably chosen your wedding dress and started thinking about what your hairstyle and makeup will look like. You might have noticed that eyebrows are a big thing now and that most of the brides and celebrities choose microblading instead of filling their brows in with a pencil. The simple reason for that is that microblading gives you perfectly shaped, natural-looking eyebrows that won't come off if you get wet or sweaty.
The best time for microblading is a couple of months before the wedding. Your microbladed brows are usually too dark and swollen immediately after the treatment. Microblading requires a healing period, which is 4-6 weeks long. After the healing period, your brows will fade a little and take their final shape.
Microblading is a semi-permanent treatment, which means that your microbladed brows will last 2-3 years. Therefore, you need to carefully choose an artist who will perform the treatment. Make sure your artist has completed a high-quality microblading training, has a certificate and a lot of experience. Do some research, ask around, check all the salons in your area and look for before and after pictures online. If you choose your artist wisely, you can be sure that nothing will go wrong.
Photo credit – Matt Parry Photography
2 months before the wedding
Naturally, you want a pearly smile in all those wedding photos. Consider whitening your teeth. The procedure is quite common and painless. Book an appointment two months before the wedding, because you might require more than one visit for the perfect outcome.
Teeth whitening is something you can also do at home since there are whitening gels that you can buy in a drugstore. However, not all of them are equally effective, so ask for some recommendations.
Photo credit –  Hayley Savage Photography
1 month before the wedding
Your hands and feet must always look well-maintained, but you have to give them a special treatment to complete the immaculate wedding look. Book a mani-pedi treatment one month before the wedding, then repeat it shortly before the big day.  
Also, if you haven't chosen your makeup artist by now, start looking for one. Check out all the reputable artists in your area. Compare their works and prices. Pick a couple of favourites and schedule some trials.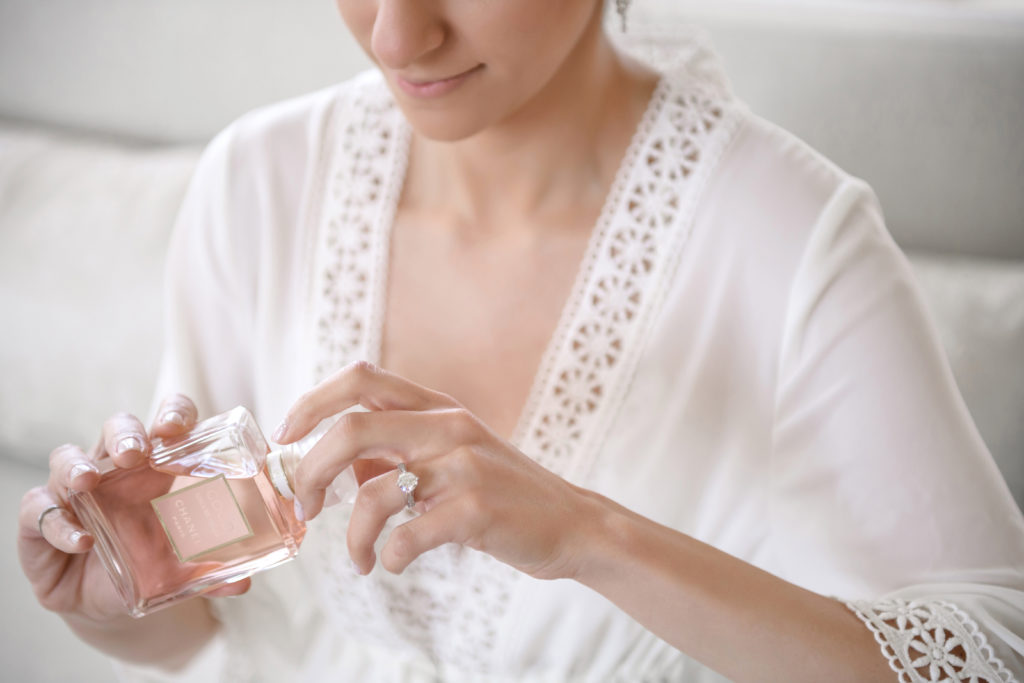 The final week
If you start preparing on time, you will avoid the stress of the final week before the wedding. Leave this week for some small correction. If you want eyelash extensions, the best time to get them is a few days before the wedding. Do the pre-wedding makeup and hairstyle trial.  Make sure you get enough sleep and avoid fast food and alcohol. Go to the spa in order to relax and refresh. Book a massage appointment. Spoil yourself a little bit and you will be glowing on your big day.
By Tilly Grant, a beauty blogger from San Francisco with the addiction to a healthy lifestyle and non-toxic beauty products, as well as everything beauty related. She has been in the beauty and makeup industry for years and loves to give tips based on her experience.