It's All in the Details…
Hello Hello Hello!
I do hope everyone is staying safe and looking after each other in this bizarre situation we currently find ourselves in! 
One thing we can look forward to is Easter and it's literally this weekend! I have a feeling that Easter egg hunts around the home and garden are going to see a resurgence this weekend for sure! Weather dependent of course! It's certainly a way to bring families  within a household together for some fun and more importantly indulgence in chocolate!! However, when do we ever need an excuse to eat chocolate really?! Haha 😄
So, this marks my first ever time blogging! Both within the wedding world and in general! Even back in the days of MSN and Bebo – (for those that remember!) when blogging about your favourite pop band or chick flick, it still was an unknown territory for me! If I had blogged it would have been about all the different pieces of stationery I had in my latest ripcurl pencil case! Which brings me onto what I want to talk about to you all today, so here it goes!
I wanted to talk about something that's a very  HUGE passion for me and that's STATIONERY! I am your hoarder of notebooks, sharpie pens & basically anything that has a unique function.Now, while I tend to collect all sorts, I wanted to talk specifically about stationery for the table setup and what I would suggest when it comes to what and how much you need to add that extra layer of detail for your wedding day! 
Even though nothing is necessarily essential, it is worth thinking not only can stationery look beautiful and bring the whole look and feel of your theme together, it also helps navigate your guests through the day whether its showing them to their seats or reminding them of that food choice they made all those months ago! 
Table Numbers or Names

Left to Right: Photography by Julie Michaelsen and Hayley Savage Photography 
Stationery by Emily and Jo 
So firstly,  table numbers and names you can be super creative with both execution and how personal you want these to be! Both numbers and names can link to the table plan or the escort cards too, so there are plenty of combinations you can do to make yours unique! 
If you want a slightly easier solution, then go for numbers. There are still loads of ways to really make these stand out whether it be by colour, font or the way you display them. With names you can make these personal too, by making them special places to you as a couple, memories or you could even name it as a reference to the group guests on that table, whatever that name might be – this could be more tricky but will add more discussion at each individual table! 🙂
Menu Cards 
Photography by Ben Yew Photography 
Stationery by Feinkost Käefer
Menu cards make a lovely centerpiece to your dinner plates at each place setting and adds another layer to the overall look. Again, the possibilities are endless when it comes to shape, font, colours and even format! You can have it printed on a variety of mediums including paper, card, vellum or even acrylic.In terms of the content it could either be a menu that covers the entirety of the menu choices or personalise it to each guest's dietary preferences. Instead of having name cards you could add the name to the top of the menu which will make it more of a keepsake 🙂 This is one of my personal favourite parts to wedding stationery so I will always be biased and definitely recommend these! 
Guest Book
Photography by Rebecca Yale Photography
Now while you might not have this directly on a guest table, a guest book is another element that gives you, as a bride and groom, a keepsake from the event. Similarly to the tableplan it's a fairly traditional item to have but can be enhanced by putting a polaroid camera beside it to engage guests. Similarly, if you have a photo booth then the photos printed from here can be added to the book alongside messages from your guests.  One thing we try our very best to do is get that guest book moving around the room! There is a danger that it can have a designated table and never rotate around your wedding guests. We, as planners, will always ask if people have written in it or physically take it around the room to start the domino effect 🙂
Table plan vs Escort Cards
Photography by 37 Frames
Stationery by Emily and Jo 
Something else to think about  is what you would like to use to navigate your guests to their seats and I see a table plan as a more traditional approach and escort cards as a more modern take on a way of guidance. 
This has always been a sure fire way of a fairly efficient and familiar way to help point guests to their tables and while this a natural 'go to' solution and can definitely be an elegant way of displaying your guests names. Alternatively, escort cards are now a more current and fun way to create the journey, if you like, and there are so many ways to execute this! Whether it be names hanging from a tree, hung from within a picture frame or having them tied to a favour or themed cocktail – the possibilities are endless, so you can be super creative with them!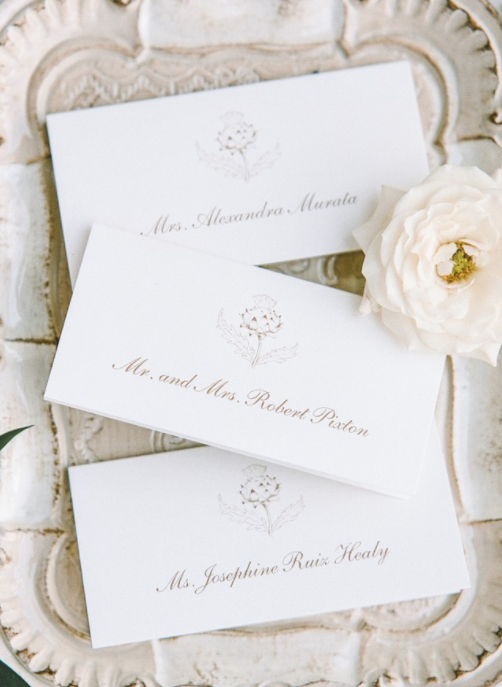 Left to Right: Photography by Ben Yew Photography  and Rebecca Yale Photography
Left to Right: Stationery by De Winton Paper Co. and Fourteen Forty 
Additional Ideas!
On top of the above, you might want to include stationery on other areas of the table. So why not use stationery to create 'thank you' tags on favours! Or have mini polaroid pictures printed of you and your guests from past events and add a personal message to the backs. You could have a quiz to test how well the tables know you as a couple and get a bit of interaction between everyone! We as a team are always trying to come up with new ideas to give your stationery that extra special uniqueness! Anything is possible!
Photography by 37 Frames
Stationery by Emily and Jo 
This all might seem quite overwhelming and you might be thinking where do I even start!? Well what I would say is to do some initial research and think first of all about the overarching theme for your wedding, the vibe, colours you like and even the season your wedding is in can help to narrow down your choices! There are so many amazing stationers out there to reach out to and that can help get your thoughts down onto paper 🙂 They can start showing you some examples and then you can hand pick the parts you want to create your very own stationery deck!
I hope this helps and you have enjoyed reading through my stationery suggestions! There are other members in the team that have just as much admiration for stationery as I do, so please feel free to get in touch if you need any support!
Stay safe everyone and have a lovely Easter weekend! Happy hunting! 
All the best
Danny x