Live dinner music vs. iPod!
Bonjour, bonjour lovely beautiful people!
How are you? I hope you're having the best week EVER!
Can you believe this is my first proper blog post for like years, we're BACK baby, and each of us from the team will be writing personal posts each week, so you can get to know us and love us even more 😉
I wanted to jump in here and discuss dinner music – it's mostly the last decision if you want a live musician as it comes to 'if you have enough money in the budget', and on the other side people say an iPod is fine!
Photo by – Ben Yew Photography
I wanted to start with what I think and why you should try, try, try and get a live musician or musicians to play during dinner!
It's super romantic and sets the atmosphere – especially a live acoustic band, as it's mellow and doesn't take over. Other options are a pianist, strings, jazz band or even a mellow sax and DJ!
It's like being in a luxury restaurant.
You can choose the songs 👍🏼🧚🏻‍♂️
Everyone feels comfortable and will be a highlight of the event 😍
You can use their equipment for the speakers 🔊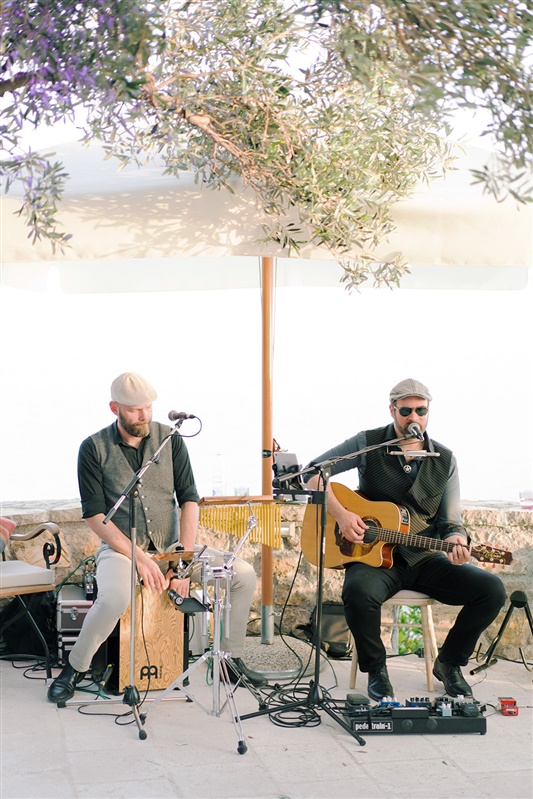 Photo by – Ben Yew Photography
I have to say each time we have a live musician I always get goosebumps as like I said above it sets the scene, the setting, and people can always relate to it – you'll be surprised at how not-too-expensive they are also, as if you have a band or musician playing in the evening you can pay them to come earlier and do something during dinner. Just remember they may not be able to play throughout as the singer will need to rest their voice.
I would say an hour is ample and when not playing you can connect an iPod, which comes to the other side of the argument!
Photo by – Ben Yew Photography
If an iPod is the only option for you then great, at least you have music in the background!! PLEASE NEVER HAVE NOTHING!!
You can download some incredible acoustic playlists from Spotify – just make sure the phone is on airplane mode 😉
If you're not getting live musicians then you'll need to get good quality speakers to play something good. This can be recycled throughout the day as you may need it for ceremony and evening etc, if you're not having live music.
Try not to put the speakers to close to tables because of the loudness – I would say get at least two speakers and place them at different places. Though 4 is the perfect number to frame the entire dinner!
You can decide on the music, choose your favourite genre.
Make sure you have enough play time for at least 3 hours as just in case everything runs over.
Big love and thank you so much for reading/coming by.
Have the best day!!
Matthew Oliver xx