New York Fashion Week Exclusive
Hey, hey, hey!  How have you been?  I know it's been a long time and I'm sorry to not keep you up to date with everything, it's been a crazy couple of months and if you're following me on social then you would know what I've been doing!
Anyway, I've got an exclusive today straight from New York's Fashion Week showcasing the up and coming dress trends for this year and next! Many of these photos were given to me courtesy of Weddington Way, an online boutique that offers a range of bridesmaid dresses sure to match any one of these gorgeous looks!
---
Weddings have come a long way from the classic and traditional white wedding gowns.  Bridal Fashion Week in NYC always does a fantastic job showcasing the wedding season's upcoming trends, and this year was no different!  Here is a glimpse of what to expect for wedding season 2015!
– All white gowns are a thing of the past!  This year it is all about coloured dresses; from pale pinks to light blues and even floral prints.  We even saw some two toned dresses hitting the runway!
Image credit – Taken from NYC Fashion Week
– Pastel colours, muted tones, and neutrals not your style?  How about a Rock n' Roll inspired wedding dress?  This season, boho favourite Claire Pettibone and acclaimed newcomer Houghton both showcased drop dead gorgeous styles in fun, cool, and (actually) wearable silhouettes.
– Have a bit of a daring side?  Lace, tulle, and feathers are the fabrics to be on the lookout for!  We saw some amazing dresses using multiple fabrics on one dress to create stunning looks.  In addition to these newer trending fabrics, we saw recurring silhouettes like illusion sleeves, low backs and even deep V-necks.
– One trend making its comeback this year is long trains.  Brides are making their statements this season by embracing the drama of a cathedral train, and we absolutely love it.
Image credit – Loretta Wedding Dress by Galia Lahav
– Other brides are looking for that "bling"!  Many dresses were inspired by Lupita's epic (stolen & returned) Oscar dress and Kim Kardashian's 15 carat engagement ring to really stand out among the crowd.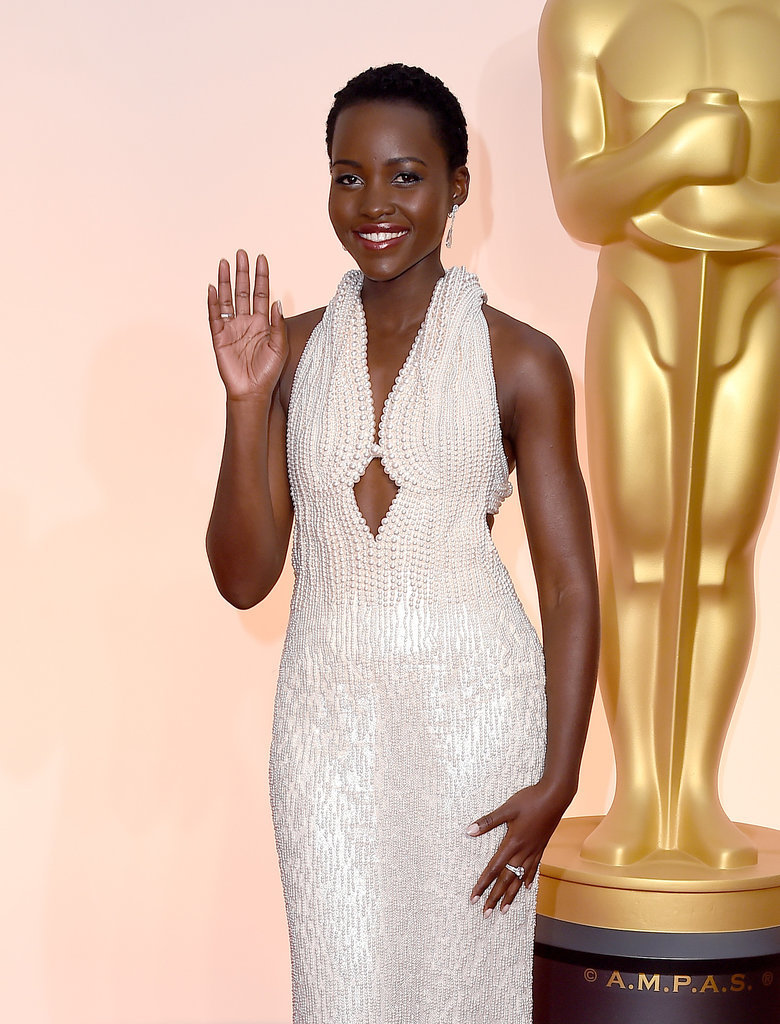 Image credit – Lupita's fabulous/famous Oscar dress
– Some of our favourite designers from Bridal Fashion Week were Alice Temperley, Watters, Monique Lhuillier, Claire Pettibone, Galia Lahav, and Lela Rose.  Below are some of the great exclusive images we were able to capture of this incredible event…
What a lovely collection of beautiful dresses, I particularly love the come back of the Cathedral Trains and Lupita's dress; she is so beautiful!
Massive thanks to Weddington Way for their exclusive and behind pictures of this amazing event!
Thank you for popping along and I hope you have a wonderful day.
Lot's of love,
Matthew Oliver Wedding and Event Planner xx