The Beautiful Wedding of Clara and Simone; all the way from Sardinia!!
Bone die, which of course means hello in Sardinian as we're taking a little trip to Sardinia in this post for a beautiful real wedding from Kama Wedding.
I'm not sure if any of you have travelled to Sardinia before?  If you haven't I totally recommended it as it's such a beautiful unspoilt place, and if you were to get married there, it would be a perfect meditation wedding!!
I was lucky enough to go over there when I was 18, with a group of my girlfriends, and yes it was completely different from anything we were expecting for an 18 year old on holiday!!  We had no idea until we got there and, at the time I didn't really appreciate it, because I was that typical youngster looking to have a great time!!  My memories of the place are great though, because even if we were all expecting a crazy holiday we came back more cultured and of course we made the holiday our own.  One of my memories is walking up this huge hill (more like a mountain) and at the top was this beautiful church, and you could see for miles upon miles!!
Kama Wedding is a brilliant organisation that plans special weddings in Sardinia, and they contacted me to see if I were interested in working with them at any opportunity.  I of course was delighted as their a prestigious company over there!!  You'll be in fantastic hands, knowing you'll have them saucing everything over there whilst you have me over here putting all the plans in place.
As any new partnership I had to share this real wedding from them, which literally speaks words and what a beautiful Sardinian wedding it is!!  Over to Clara the beautiful Sardinian Bride…
Date and place of marriage: September the 8th
Bride and Groom: Clara and Simone
Place of reception: Villa Ballero
Place of the ceremony: Saint Andrew's Church, Quartu Sant'Elena (Cagliari)
Photographer: Ales & Ales
How did you two meet?
Simone and I met 15 years ago at a work meeting – I still remember it was my boyfriend back then to introduce me to Simone! After that brief encounter we have lost sight for over 10 years and only thanks to the unintentional help of common friends we were introduced again. Needless to say that time love just blossomed.
Why your love is special?
Simone is the perfect man: he gives me joy and lots of laughs, we have great fun together and this is vital for me. But above all, he is able to be a friend, always by my side as I am for him… and that's the strength of our life together.
How did the marriage proposal go?
The wedding proposal was definitely exciting, and came after a heated discussion I was just furious for – to be forgiven, he booked a table at my favourite restaurant in town and… surprise surprise! Just before the dessert a laptop appeared on the table with a video playing and showing all our most significant pics… at the end of the video he kneeled down on his knees and popped up with the classical "Mi vuoi sposare?"… Everyone around was clapping as I said… "Sì!".
Tell us about the ceremony.
The ceremony was held in a Sardinian countryside church, with white walls with inserted stones and a precious wooden ceiling. It was decorated like a tale from the Arabian Nights, as I requested following my childhood dreams: Kama Wedding re-adapted this exotic style to Sardinia and opted for white wooden lanterns, spread around the floor along with white petals, nice organdie and white gypsophila decorations falling nicely from the benches to illuminate the path to the altar. The effect was so suggestive, perfect to create a warm and unique atmosphere also thanks to the classical musical which was being played by fine musicians. But I must admit the most wonderful thing there definitely was Edoardo, our child!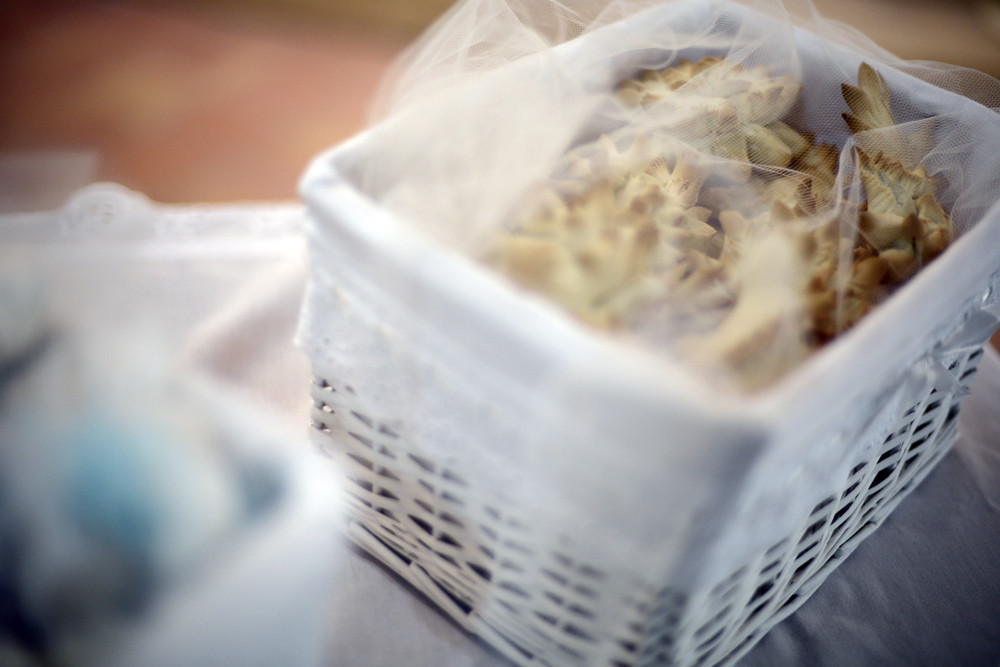 The wedding reception was…
We had just under 200 people celebrating with us. As in the church, light was the dominant theme, along with white and blue: two really summery yet elegant colours I love. There were white light balls on the tables and hanging down the ceiling. Also the wedding favours, for which I really thank Kama Wedding, were recalling the light: Kama created a white tree with white and blue scrolls containing a thanking message from Doctors without Borders, as the favours were in fact charity donations. The ceremony was opened by a buffet in the terrace facing the sea, with unlimited cocktails served all night long. Also, the traditional roasted piglets, cooked in an evocative part of the terrace, were served as an appetizer: all the dinner was a modern fusion between Sardinian traditional dishes and contemporary cuisine. A very particular event was held during the wedding reception: we had women from Tonara, a small village in Sardinia, making their traditional nougat right there: it was delicious and all our guests were enthusiastic about it!
As regards the dinner, we decided to shorten the usually longest part of the Italian wedding: the wedding meal! Standing hostesses accompanied people to the wedding tables, which were named after marriage's values as fidelity, love, passion, patience and so on. It was romantic and original.
How did the party go?
The party began during the buffet, to be honest! We had a pre-dinner music live session with a group of very talented musicians playing pop/commercial music, while during the dinner we had some lounge music as background music. After the dinner we had a real explosion of energy thanks to the DJ Kama Wedding called to us from Ibiza: he made everyone dance until 6 in the morning! It was absolutely stunning. At 4 we have had the typical Italian breakfast with pastries and cappuccino served to everyone… Delicious!
The wedding photo shooting was…
It was held on the court, terrace overlooking the sea, at evening before the wedding reception. Why did we choose to have the reception in the evening? Because we wanted all of our guests to enjoy Sardinian beaches during the day and to have time to get ready for the dinner too.
What made it special your wedding?
Thanks to Kama Wedding every single person who shared this day with us was happy and well taken care of: Kama gathered the tastes and needs of different people and melted it perfectly together, making it possible to enjoy 100% the event: all the families were so grateful children were with the girls provided by Kama Wedding to play with them all through the dinner and put them to sleep!
The colours of our wedding were…
I can tell white was the main colour with blue: the sea at our feet perfectly matched the band on my dress, the ribbons on the favours and on the main decorations. White was dominant, though: one of the white things I loved the most was the car Kama provided: it was a Citroen vintage car… so rustic and smart I couldn't ask for more.
Our honeymoon was…
Our honeymoon was organized by Kama: we took a trip all around the Sardinian coasts. The weather was so hot even if it was mid-September and we enjoyed staying in the most exclusive places there: from the beautiful Emerald Coast to the Southern beaches: Sardinia brings Caribbean sea in Europe as they say! I can still smell the perfume of Mediterranean nature, and I still remember the time we bathed at 6 in the morning in a secluded beach… unforgettable.
Your advice to those who want to get married?
Ask for the services of someone you feel you can completely rely on: someone who gives you the certainty your tastes and needs will be listened to and your wishes granted. I trusted Kama Wedding as they immediately understood what I was looking for: the style I love, the kind of ceremony and reception, and the kind of party I had in mind to celebrate my wedding.
How did Kama help?
They had all the solutions before I could express the need, I promise! Also, I have to say the respected my budget to the very last euro thanks to their contacts on the territory…. And made it all so much easier to handle – my tension too was under control as I knew they were working for me. It sounds cheesy, but I couldn't have done it, if it were not for them.
Wow, wow, wow!!  What a beautiful, classic, traditional wedding in Sardinia.  The couple are sooooooo in love and the whole design and creativity is just so perfect.  Massive congratulations to Clara and Simone and also massive congratulations to the amazing and incredible Kama Wedding for putting it all together!!  All their hard work paid off.
I really hope you loved it all as much as I do.  Any questions you have please don't hesitate to ask Kama or myself.
Thanks so much for popping by and have a wonderful day.
Love you all
Matthew Oliver xx